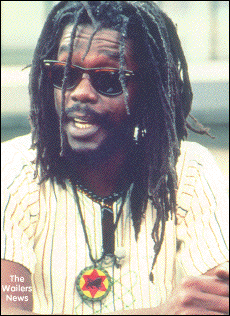 "I've learned some lessons in my life/lessons in my life/Always be careful of my friends/be careful of my friends/Money can make friendship end/it makes friendship end." - From "No Nuclear War" by Peter Tosh.

To his fans around the world, Peter Tosh was a rocking Rastafarian who smoked ganja on stage and musically assaulted authority. To the oppressed people of Jamaica's ghettos, the inspiration and reason for reggae, Winston Hubert McIntosh was a demigod.

But even demigods die.

Like his friend and compatriot, Bob Marley, Tosh became a voice that cried out against injustice with protest music born in the slums of Kingston. And like Marley, Tosh was silenced prematurely.

Last weekend, three armed intruders broke into Tosh's estate outside of Kingston and shot and killed the musician and herbalist Wilton "Doc" Brown. Tosh's girlfriend and manager, Marlene Brown, drummer Santa Davis, musician Michael Robinson and disc jockey Jeff Dixon and his wife, Yvonne, were wounded in the attack.

Tosh was murdered a week after his album, "No Nuclear War," one of his most ambitious recordings, was released in the United States. "No Nuclear War" addresses the issues of nuclear holocaust, apartheid, world peace and spirituality with an upbeat mix of choppy reggae and a commercial pop slickness aimed at international charts.

Tosh had spent the last four years involved in contract disputes, and "No Nuclear War" was supposed to establish him as the man to carry the burning spear of reggae into the future and keep it as viable a music as rock - a role left vacant when Bob Marley died of cancer in 1981.

Tosh was born in 1944 in Grange Hill, a small town off Jamaica' s tourist track and near the island's mountainous "cockpit country, " a large farming and agricultural area. When Tosh was 17, his father abandoned the family, and the teenager moved with his mother to Trench Town in Kingston.

Trench Town, the symbol of government oppression in Tosh and Marley's reggae songs, is a conglomeration of cement shacks and open sewers that serves as public housing. It is the island's most notorious ghetto.

In 1963, Trench Town's aspiring musicians gathered at the house of a local celebrity named Joe Higgs. Higgs was a calypso-pop singer esteemed as much for his critical ear as for being a star with a local hit and for being a hero on the streets. Hanging out at Higgs', Tosh was one of few Jamaicans who owned - and knew how to play - a guitar.

One day, while passing by Higgs' place, Tosh heard the harmonizing of Marley and Neville O'Riley Livingston, who would later become Bunny Wailer. Assertive and outspoken, Tosh took it upon himself to join them.

While the British Invasion was still a battle plan in England, these young Jamaicans were creating a new sound that would eventually disrupt their country's politics before finding an international audience and influencing many of today's young bands.

The three "Wailing Wailers," as they were called in the beginning, were entranced with the vocal harmonies of the Drifters and the Impressions, but the renegade sounds of the Beatles, Rolling Stones and Bob Dylan didn't escape their notice. Under the guidance of Clement Dodd, a founder of the Jamaican music industry, the Wailers learned songwriting and how the business worked.

Eschewing the mellow happiness of the contemporary Caribbean steel drum sound, the Wailers opted for pointedly political music with a hard- driving beat straight from a hot, sweaty night in a Trench Town shack. They added a punch and a harshness to traditional Caribbean calypso that was energized by lives spent fighting poverty, racism and oppressive colonial rule.

Their first hit, a recording called "Simmer Down" that ridiculed the anarchistic preachings of the Rude Boy movement in the ghettos, signaled what reggae was to become. It became a music of political protest packed with a relentless beat that gave the words power.

For Bob Marley and the Wailers, reggae also became a string of hits that included "Rude Boy," "Trench Town Rock," "Stir It Up" and the reggae anthem "Get UpStand Up" - which Tosh and Marley co-wrote. With hits such as these, the Wailers became folk heroes around the world and reggae royalty in Jamaica.

And, along the road to stardom, the Wailers found religion. They became Rastafarians. The Rastafarian faith is based upon the life of the self-proclaimed son of God, Haile Selassie, ruler of Ethiopia. On the ghetto battlefield, the Rastas were the spiritual opposition to the physical anarchy of the Rude Boys.

Rastas are intensely spiritual. They praise Jah, the creator, and practice a holistic naturalness known as I-tal. But their ganja worship, permissive attitudes and long, springy tubes of hair, called dreadlocks, never gelled with society proper.

Although the Rasta movement grew because of the Wailers, by the time they released their first album, "Catch a Fire," in 1972, the three musicians were already beginning to dissolve a partnership that had survived years of mismanagement and deceit during the hard scramble out of Trench Town.

As they grew from angry teens into cult heroes, the three Wailers had shared songwriting credits and responsibilities. The relationship started to strain, however, when the Wailers went to London to record "Catch a Fire" under the direction of producer Chris Blackwell of Island Records, a division of Capitol.

In early 1973, when the Wailers made their first North American tour, Bunny Wailer left the group, citing a fear of flying. He was replaced by an enthusiastic Joe Higgs.

During the tour, a lukewarm response in Canada and a frigid winter in London heightened tension between Tosh and Marley. Finally, the two confronted each other in November 1973. Marley dominated the reggae spotlight; Tosh left the group.

While Marley's star would rise, Tosh never received the recognition that Marley did, even after Marley's death.

After Tosh left the Wailers, his music became more radical and took an even stronger political stance. Though that was popular with the Jamaican people, the authorities felt otherwise. In 1975, after being busted for possession of ganja, Tosh was brutally beaten by police officers. The incident agitated his political radicalism. Meanwhile, detractors accused Tosh of selling out when he began recording on the Rolling Stones' label in 1978.

Tosh's radical views attracted wide public attention during the first Peace Concert in Kingston's National Stadium in 1978, which marked Marley's return to the Jamaican stage. Two years after a politically motivated assassination attempt on Marley, Tosh preceded Bob Marley and the Wailers on stage in their hometown. To open his set, Tosh harangued then-Prime Minister Michael Manley and the Parliament, who were sitting in the audience, for 30 minutes. At the end of his speech, in open defiance of the scores of riot police "protecting" the stage, Tosh lit up a huge ganja cigar.

In the late '70s and early '80s, Tosh recorded the hits "Bush Doctor" and "Africa," as well as new versions of "Get Up Stand Up" and the old Wailers tune "Downpressor Man." His biggest hits - released while Marley was still the reigning king of reggae - were the pot anthem "Legalize It" and "(You Got to Walk and) Don't Look Back," a song he co- wrote with Mick Jagger.

"No Nuclear War" is an example of Tosh's desire to push reggae and the Rasta movement back into the forefront of popular music. His previous albums dealt primarily with racism, and the cover art was often pictures of him. This new album tackles a more diverse array of issues, and the cover is a drawing of a Rastafarian in a gas mask standing in front of a mushroom cloud.


Some solo albums:
Legalize It
Columbia - 1976

Peter Tosh's debut solo album.  Just like Bunny's
"Blackheart Man," each track is pure genius!


 
Equal Rights
Columbia - 1977

Peter's brilliant follow-up to "Legalize It."  If you're
looking for conscious music, this is no better example!


 
Honorary Citizen
Sony - 1997

Intense 3 disc collection of Peter Tosh
related material, with many rare and live songs and detailed 
liner notes.  If you're a Peter Tosh fan, you have to own this!